On The Mat
Fight Shop
Save Jiu JItsu No Scissor Banging T...
C.A.M.O. - Official MMA Glove
Future Fighter Lil Angels Board...
Shock Doctor- Pro Strapless Clr/Blk...
Who's Online
There are currently 0 users and 16 guests online.
Who's New
MILLENNIA No-Gi Double Elimination Tournament on Sat.
Wed, 2008-05-07 13:34 — TheComish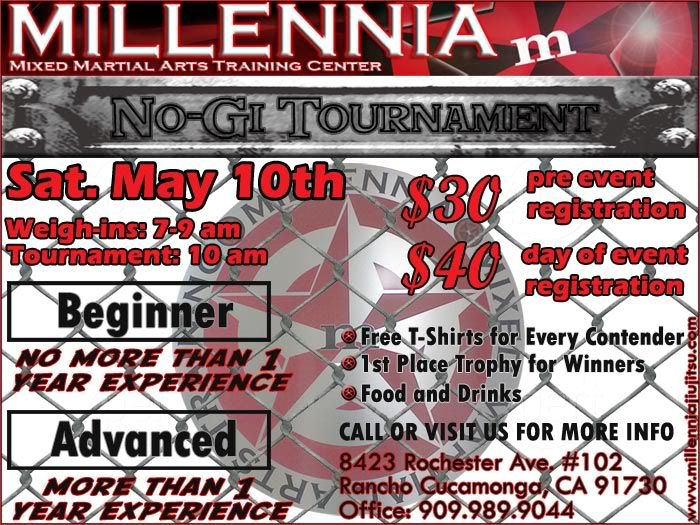 What:
Millennia No-Gi Double Elimination In-house Tournament
When: Saturday May 10th, 2008
Where: Millennia MMA Academy
8423 Rochester Ave suite 102
Rancho Cucamonga CA 91730
Time: Weigh-ins………7-9 am (no pound allowance)
Rules meeting....9:30 am (all competitors must be present)
Tournament……10 am
Fees: $30 registration fee (till May 9th)
$40 registration fee the day of tournament
$2 spectator (Kids 12 and under are free)
$4 Food Combo (choice of hot dog/hamburger, Gatorade/water and chips)
* No refunds (however, replacements are ok)
* We reserve the right to combine brackets in order to give the athletes the most amount of matches as possible.
* We will disqualify any athlete, coach and team in case of unsportsmanlike conduct
* All competitors will receive a free t-shirt
* Athletes must be at the rules meeting since these are different rules.
COMPETITIONS ARE A GREAT WAY TO TEST YOUR SKILLS AGAINST OPPONENTS FROM DIFFERENT SCHOOLS AND ALSO A GREAT TOOL FOR TRAINING FOCUS LEADING UP TO GAME IMPROVEMENT
WE WOULD LIKE TO THANK YOU IN ADVANCE FOR PARTICIPATING IN OUR EVENT.
KEEP IT REAL!
JAVIER VAZQUEZ AND THE MILLENNIA TEAM