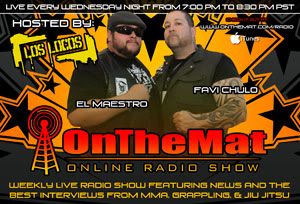 Welcome to the new OTM Radio featuring the Los Locos!
OTM has teamed up with El Maestro and Favi Chulo to create a whole new online radio show. The show will cover MMA, Grappling, and other crazy stuff from around the world. Featuring call in guests from around the Martial Arts world.
The show will stream live every Wednesday from 7:00 PM to 8:30 PM on location and at events world wide.
Log in here to start chatting with El Maestro and Favi Chulo along with other listeners!