Good read. For those that don't know Westbrook was a top prospect in the NFL at one point and is now training in BJJ. He actually won the purple belt absolute at the Pan Ams this year.
There's no room for football in Westbrook's heart [2]
Michael Westbrook is finished with football, but his immense athletic ability is not going to waste.
TEMPE, Ariz. -- It was early evening at Arizona Combat Sports and the man behind the counter had his feet propped on a desk and his hands folded comfortably behind his head. A visitor inquired about the whereabouts of Michael Westbrook [3]. "I'm Michael Westbrook,'' the man said as he stood and offered a handshake and smile. '95 NFL draft
• First-round selections [4]
Those are gestures Westbrook couldn't offer with much certainty or happiness a decade ago in the middle of a turbulent NFL career, when outrageous expectations, eggs bouncing off his front door and rumors about his sexual orientation made life miserable. As Westbrook, 35, began giving a tour of the mixed-martial arts training facility, he was downright gleeful. Funny, but the writer and photographer he guided are members of the media, a group Westbrook collectively despised when he was playing wide receiver for the Washington Redskins [5] and failing to live up to the lofty expectations that came with being the fourth overall pick in the 1995 draft.
He pointed out the rings where guys training for Ultimate Fighting slug each other with very few rules. Westbrook moved through another room full of weights before stopping at the door to the room at the back of the facility.
The pause is appropriate because you're about to enter Westbrook's sanctuary. You're about to enter the place where Michael Westbrook truly found Michael Westbrook and forgot football. "I love my life,'' Westbrook said. "I'm having fun.'' The good fight
Life is simple and quiet for Westbrook these days. He lives in nearby Mesa ("I could live in Scottsdale, but it's too fake," he said). When he's not with his daughter and two sons, there are two staples in just about every day.
[+] Enlarge [6]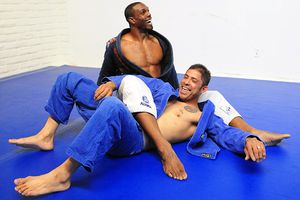 [6]Mark J. Rebilas/US Presswire for ESPN.com
Westbook (top) is pursuing a black belt in Brazilian jujitsu -- and having a lot of fun in the process.
There's a weightlifting session at a health club in the morning. At night, he walks into that back room and becomes exactly what he and the Redskins had hoped for when he was drafted with the No. 4 overall selection out of Colorado. Here at 7:30 on most nights, Westbrook is the best athlete around, excelling with every movement, while totally at peace. In a room that looks like a basketball court without baskets, and a floor covered with blue mats, the guy who came up short of forecasts to be the best wide receiver ever, is well on his way to elite status in Brazilian jujitsu. The sport is similar to wrestling in that it's a ground-based fight, but is far more technical. Westbrook dabbled in martial arts during his football days, but didn't really get into Brazilian jujitsu until his career ended in 2002. He's won national and Pan-Am championships as a blue and purple belt and he hopes to soon become a brown belt. If all goes according to plan, he'll be a black belt -- the highest level in the sport -- within a couple years. Generally, most black belts take eight to 10 years of intense training to reach that level. Westbrook dabbled briefly in Ultimate Fighting, defeating former NFL player Jarrod Bunch in his only bout.
[+] Enlarge [6]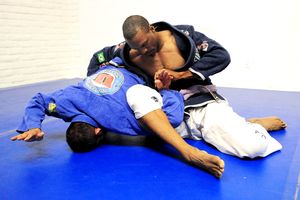 [6]Mark J. Rebilas/US Presswire for ESPN.com
Brazilian jujitsu resembles wrestling and is less violent than Ultimate Fighting. "I've never gotten a good feeling from hitting someone in the face,'' Westbrook said.
"I've never gotten a good feeling from hitting someone in the face,'' Westbrook said. "I had to do it growing up to defend myself, but I never liked it. A lot of people get off on that, but I don't want to do it.''
What Westbrook wants to do is roll, that's what participants call Brazilian jujitsu. There's no prize money. That's fine with Westbrook, who lives comfortably off business investments and the money he made playing football. The money, Westbrook said, is the only good thing to come out of his career. Jujitsu is Westbrook's passion. Football was his pain. "This is a lot easier and a lot more fun,'' Westbrook said. "I don't have to worry about coaches and it's not nearly as dangerous. I don't have to worry about pleasing the public and the announcers. Or getting eggs thrown at my door because I dropped a ball. I don't have to worry about any of that.'' Few fond football memories
These days, Westbrook will tell you he hates football and, aside from the big scar on his left knee, there are no visible reminders of his career.
"If you walked into my house, you'd never know I played football,'' Westbrook said. "There are no game balls or pictures or anything like that. I sent all that stuff to my mom. There's no football stuff left in my house.'' Or in his heart. "I didn't like the lifestyle,'' Westbrook said. "I didn't like the guys. I didn't like living like that. Everybody was fake and thought they were something they weren't. A lot of guys weren't good people and I just couldn't live like that.''
[+] Enlarge [6]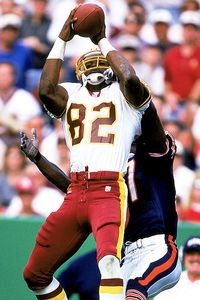 [6]Al Bello/Getty Images
Westbrook had his moments with the Redskins, but he never realized his vast potential in the NFL.