April 18, 2010

Ex-lightweight champ Valero arrested

Associated Press

CARACAS, Venezuela -- Former lightweight champion Edwin Valero was detained Sunday on suspicion of killing his wife, the gravest in a string of problems that have threatened to derail his career.

Venezuelan Federal Police Chief Wilmer Flores said Valero was arrested after police found the body of his 20-year-old wife in a hotel in Valencia. Valero left the hotel room around dawn on Sunday and allegedly told security that he had killed Jennifer Viera, Flores said.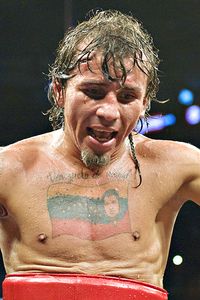 Police said Edwin Valero left a hotel room Sunday morning and told hotel security that he had killed his wife.

Flores told state television that police found three stab wounds on Viera's body. He said Valero was transferred a local police precinct, "where we are headed to take samples needed for the investigation of the case" and to question the boxer.

Valero's lawyer, Milda Mora, did not immediately return telephone calls seeking comment.

His promoter, Top Rank, had just learned about the incident Sunday and said Valero was not scheduled to fight any time soon. He had been having difficulty obtaining a visa to fight in the United States, basically ruling him out of the most lucrative opportunities.

"He is not scheduled for Top Rank in any fight," spokesman Lee Samuels said. "He couldn't come to the U.S. He did fight in Mexico his last fight."

The 28-year-old former WBA super featherweight and WBC lightweight champion, whose all-action style made him a crowd favorite, has been in trouble with the law before.

Last month, Valero charged with harassing his wife and threatening medical personnel who treated her at a hospital in the western city of Merida. Police arrested Valero following an argument with a doctor and nurse at the hospital, where his wife was being treated for a series of injuries, including a punctured lung and broken ribs.

Valero entered a Venezuelan rehab center March 28 for treatment of drug and alcohol addiction, Mora said at the time. The boxer's attorney said Viera was injured when she fell down a flight of stairs at the couple's home while checking a water tank on the roof.

Venezuela daily El Universal also reported that Valero had been arrested recently after a neighbor called authorities and claimed the boxer struck his mother and a sister.

"I've never hit my little sister and much less my mother," Valero responded at the time, in comments published by Venezuelan television station RCTV's Web site.

Valero (27-0, 27 KOs) shot to fame when he won his first 18 fights by first-round knockout, setting a record that has since been eclipsed by Tyrone Brunson. Valero last fought in February, stopping Antonio DeMarco in an entertaining fight in Monterrey, Mexico.

He was replaced as WBC lightweight champion in February after he expressed a desire to campaign in a higher weight division, WBC president Jose Sulaiman said.

"He's a boy who is extraordinarily talented in boxing," Sulaiman said by phone from Mexico City. "It's a shame what is happening."

It's hardly surprising to those who have followed his career, though.

Valero was involved in a motorcycle accident in 2001 that resulted in a cerebral hemorrhage, and because most jurisdictions refused to license a fighter who sustained a brain injury, he was unable to fight in the United States. The boxer nicknamed "Dinamita" wound up fighting mainly in Japan and Latin America, where he won his first title in 2006.

While Valero had little trouble in the ring, outside of it was another matter.

Along with accusations of domestic violence in Venezuela, Valero was charged with drunken driving in Texas, which is the primary reason he was denied a U.S. visa.

He accused the U.S. government of discrimination, saying he had completed all the necessary paperwork for the visa but his application wasn't approved because of his sympathy for Venezuela President Hugo Chavez, a fierce critic of the U.S. government.

Valero has an image of Chavez tattooed on his chest along with a Venezuelan flag.


Copyright 2010 by The Associated Press


http://sports.espn.go.com/sports/boxing/news/story?id=5109456 [2]